Serial Window
The Serial window accepts serial input and output data streams. The window displays serial output data received from a simulated CPU, while characters typed into a serial window are input to the simulated CPU. This allows testing a UART interface prior to having the target hardware.
The Debug (printf) Viewer is a special serial window that can exchange data with the microcontoller.

Open these windows using the toolbar button or the menu View - Serial Windows.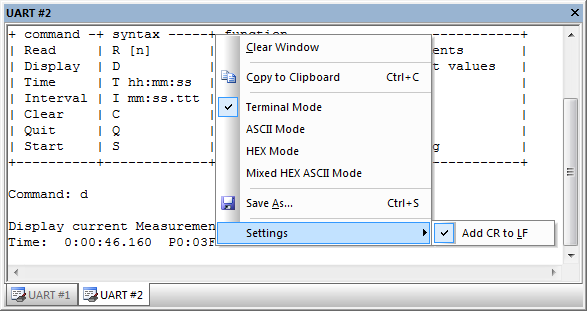 The Context Menu allows you to:
Clear the window.
Copy and save the content to the clipboard or a file.
Set a Carriage Return to every Line Feed that is received (enabled by default).
Switch to various representation modes.

| | |
| --- | --- |
| Terminal Mode | Text formatting and cursor control sequences are supported (see table below). |
| ASCII Mode | Every printable character is displayed. An unprintable character is displayed as white-space (' '). |
| HEX Mode | Every character is displayed as a HEX-number. |
| Mixed Mode | Every character is displayed as a HEX-number and ASCII character. An unprintable character is displayed as dot ('.'). |
ANSI VT100 Terminal Sequences
Sequence
Description
From Target −→ µVision
CR ('\r')
Carriage Return
LF ('\n')
Line Feed
TAB ('\t')
Tabulator
BS (0x08)
Back Space
BEL (0x07)
Bell
<ESC>[C
Move cursor (position) 1 to the right
<ESC>[D
Move cursor (position) 1 to the left
<ESC>[K
Delete line right to cursor
<ESC>[J
Clear screen
<ESC>[y;xf
Set cursor to Row y, Column x; (x,y) are numeric ASCII values
From µVision ⇒ Target
<ESC>[A
Cursor Key UP
<ESC>[B
Cursor Key DOWN
<ESC>[C
Cursor Key RIGHT
<ESC>[D
Cursor Key LEFT
Examples

// Clear screen and set cursor home
void ClearScreen(void)
{
        printf("%c[1;1f%c[J", 27, 27);
}

// set cursor to position (x, y)
void SetCursorPosition(int x, int y)
{
        printf("%c[%i;%if", 27, (signed int)y, (signed int)x);
}

See also