Start Debugging
The µVision3 Debug Mode starts with the menu command Debug — Start/Stop Debug Session. Depending on settings under Options for Target — Debug, the µVision3 Debugger loads the application program and executes the startup code.
µVision3 saves the editor screen layout and restores the screen layout of the last debug session. If the program execution stops, µVision3 opens an editor window with the source text or shows CPU instructions in the disassembly window.

The current instruction or high-level statement (the one about to execute) is marked with a yellow arrow. Each time you step, the arrow moves to reflect the new current line or instruction.
The following screen is what you can expect when you start the debugger.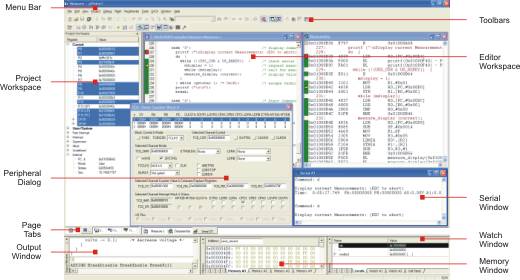 During debugging, most editor features are still available. For example, you can use the find command or correct program errors. Program source text of your application is shown in the same windows.
The µVision3 debug mode differs from the edit mode in the following aspects: