Project Targets and File Groups
By using different Project Targets µVision3 lets you create several programs from a single project. You may need one target for testing and another target for a release version of your application. Each target allows individual tool settings within the same project file.
Files Groups let you group associated files together in a project. This is useful for grouping files into functional blocks or for identifying engineers in your software team. In our example, we used file groups to separate the CPU related files from other source files. With these techniques you could easily maintain complex projects with several hundred files in µVision3.
The dialog Project — Components, Environment, Books... — Project Components allows you to create project targets and file groups. We have already used this dialog to add system configuration files in a file group. An example project structure is shown below.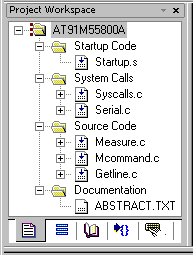 The Project Workspace shows all groups and the related files. Files are built and linked in the same order as shown in this window. You can move file positions with Drag & Drop. You may select a target or group name and Click to rename it. The local menu opens with a right mouse Click and allows you for each item:
to set tool options
to remove the item
to add files to a group
to open the file.
In the build toolbar you can quickly change the current project target to build.