MCB251 Evaluation Board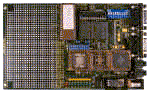 The Keil MCB251 Evaluation Board introduces you to the Intel 251 Microcontroller Family (a high-speed, high-performance derivative of the 8051).
This evaluation board includes a 2K-limited copy of the Keil 251 development tools.

Quick Links
The Keil MCB251 single-board computer is an evaluation board for the Intel and Atmel 251 family of microcontrollers. The MCB251 allows you to investigate the capabilities of the 251 and create real working programs with the Keil development tools. The board provides a capable prototyping platform for your 251 projects.
Note
The MCB251 helps you become familiar with the different operating modes of the 251 microcontroller. It supports all operating modes of the 251 including source, binary, paged, and non-paged.
The MCB251 supports 251 and 8051 (44-pin PLCC) devices. By creating and testing code for the various operating modes of the 251 and 8051, you can evaluate code and processor performance. These factors can be weighed against other production parameters to help choose the optimum code and processor combination.
Alternatively, you may choose to simply play with the board, make it flash the LEDs, and write "Hello World" out the serial port.
Components Included
The MCB251 Evaluation Board includes the following components.
System Requirements
PC with one available serial port,
Windows 95/98/NT/2000,
One 3½-inch, 1.44MB disk drive,
One CD-ROM drive.
Evaluation Software
The MCB251 Evaluation Board comes with a 2K-limited version of the DK251 Developer's kit. The evaluation kit allows you to get started writing programs for the MCB251. Many sample applications which run on the MCB251 are also included.