News Item
28 May 2019
MDK editions for Holtek devices
In order to develop high-quality, secure embedded systems, robust and effective software development tools are required. For users of Holtek devices, Keil MDK is now available as a free edition for programming Holtek's Arm Cortex-M0+ based microcontrollers, offering professional tools for budget-limited projects.
Keil MDK Holtek Edition - Cortex-M0+ supports over 100 Holtek devices and features the industry-standard Arm C/C++ compiler, the Keil µVision IDE and debugger, and sophisticated analysis tools. This free entry to professional tools provides unparalleled functionality for software developers.
Visit keil.com/holtek/ht-edition for more details about how to get your free serial number.
The user-friendly µVision debugger interfaces to Holtek's e-Link32 debug adapter (using the CMSIS-DAP protocol), which is an integral part of all Holtek development boards.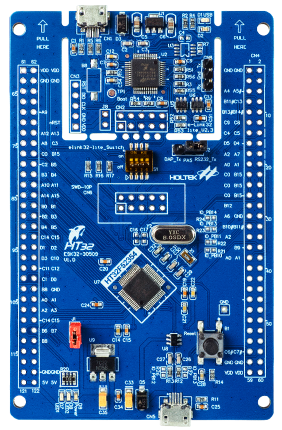 Holtek HT32 family development kit
Holtek provides CMSIS-compliant device support which makes it easy to add CMSIS software components to your applications, such as Keil RTX or FreeRTOS kernels. Both are supported in the µVision Debugger with the Component Viewer for kernel awareness and the Event Recorder for analyzing the dynamic run-time behavior.
Low-cost solution for all Holtek devices
In addition to the free offering, Keil MDK Holtek Edition – Cortex-M0+/M3/M4 supports all Holtek devices, including the future ones based on Arm Cortex-M4 and is available for US$ 395. The one year term based license can be purchased through Arm's online store.