Media Alert
20 Feb 2019
MDK supports STMicroelectronics STM32MP1
The new STM32MP1 devices from STMicroelectronics are heterogeneous multi-core devices on the Arm® Cortex®-A7 core and the Arm® Cortex®-M4 core.
Powerful computing with with fast, efficient I/O

STM32MP1 Cortex-A and Cortex-M processor-based heterogeneous computing system
Heterogeneous systems combine high-performance cores for application software and low-latency cores for deterministic real-time I/O. On the STM32MP1, the dual-core Cortex-A7 (up to 650 MHz) runs for example Linux and provides enough computing power for demanding applications. The energy-efficient Arm Cortex-M4 (up to 209 MHz) processor executes the highly efficient Keil RTX5 RTOS that is easy to use and tailored to meet real-time requirements for deterministic I/O operations. This approach ensures fast start-up times and enables low-power operation in battery-powered systems. The two processor systems exchange information via a fast, interrupt driven inter-process communication and shared memory.
CMSIS support in MDK
MDK v5.27 fully supports these devices with device family packs that include example applications for the STM32MP1 evaluation board.
The CMSIS-compliant device support makes it straightforward to integrate numerous CMSIS software components, including CMSIS-RTOS with Keil RTX or FreeRTOS kernels. The CMSIS-RTOS implementations are supported in the µVision Debugger with the Component Viewer for kernel awareness and the Event Recorder for analyzing the dynamic run-time behavior. All these software components are available for both cores, the Arm Cortex-A7 and the Arm Cortex-M4.
Superior debug experience

STM32MP1 Evaluation Board
Utilize the µVision System Analyzer window to observe threads, exceptions, and even power measurement data (when using ULINKplus) time-synchronized with other system events.
Event Recorder shows incoming messages from the OpenAMP stack that is used for communication between the two cores: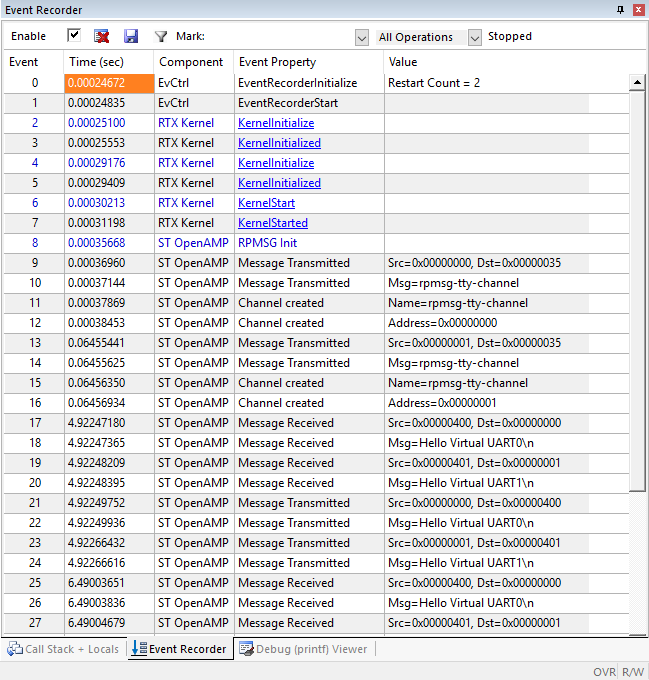 OpenAMP events shown in Event Recorder
Demos at embedded world
Join Arm at embedded world in Nuremberg, Germany and get a first hands-on experience. We will be showcasing STM32MP1 with MDK at the STMicroelectronics booth in hall 4A/138, and with Arm DS at the Arm booth in hall 4/140.