Media Alert
09 Jan 2017
Keil MCB54110 Evaluation Board for NXP LCP54000 series
ARM today announced the availability of the Keil MCB54110 Evaluation Board for the NXP LPC54000 microcontroller series that is based on the high-performance ARM® Cortex®-M4 core, with optional Cortex-M0+ co-processor for efficient software partitioning.
The MCB54110 board features the LPC54110 device with many interfaces such as USB Device, RS232, QVGA touchscreen display, and stereo CODEC. Included is an on-board debug adapter based on CMSIS-DAP.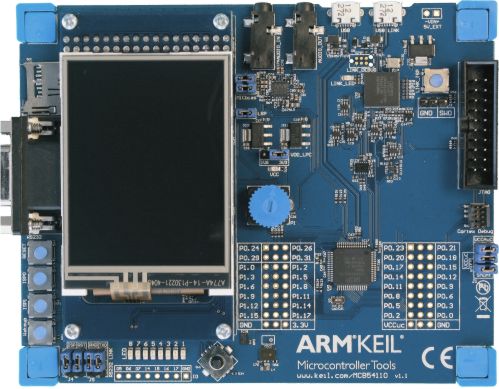 MCB54110 Evaluation Board
The board is fully supported in Keil MDK Version 5 with a Board Support Pack that includes CMSIS-Driver and many programming examples. The MDK-Middleware provides ready-to-run software examples that utilize TCP/IP networking, USB Device, Flash File System and Graphical User Interfaces.
Resources:
The Keil MCB54110 is available now from ARM and our distribution partners.