Media Alert
01 Mar 2010
ARM launches DS-5 Development Tools for ARM Linux-based Systems
The Keil Development Studio 5 simplifies Linux & Android application development on ARM processor-based systems.
CAMBRIDGE, UK – Mar. 1, 2010 – ARM [(LSE: ARM); (Nasdaq: ARMH)] today announced, at the Embedded World conference in Nurnberg, Germany, the launch of the Keil™ Development Studio 5 (DS-5) Application Edition. DS-5 is a software development tool suite which simplifies the development of Linux and Android native applications for ARM® processor-based systems, reducing the learning curve and shortening the development and testing cycle.
DS-5 Application Edition features an Eclipse-based project manager with support for multiple workspaces and projects, and powerful C/C++ and assembler code editing functions. It also includes a fully featured Linux application debugger with detailed graphical views and processor control mechanisms, and a fast model of an ARM Cortex™-A8 processor-based SoC for rapid ARM Linux development without the need for any hardware target.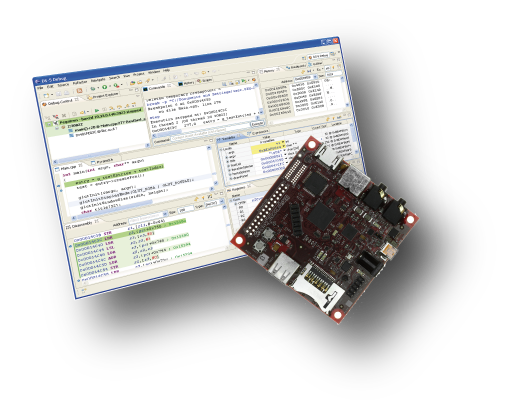 DS-5 is preconfigured to support popular development boards including the OMAP35x processor-based BeagleBoard and Texas Instruments Incorporated (TI) OMAP35x evaluation module. DS-5 automates downloading applications and libraries to the target's file system, starting them and connecting the debugger, which enables developers to focus their effort on analyzing and fixing their code. DS-5 Application Edition also includes two Linux example projects, the Gnometris application and the Libgames-support shared library.
"The industry-standard Eclipse design environment enables the integration of plug-ins from several tool vendors into a single framework. Eclipse-based tools such as DS-5 help us be more efficient when developing software for our multi-architecture automotive devices," said Carol de Vries, R&D manager automotive, NXP. "We gladly continue to collaborate with ARM by providing valuable use cases, requirements and feedback on their development tools".
"With development platforms ranging from the low-cost BeagleBoard to the full OMAP35x EVM, open source enthusiasts can harness the capabilities of the DS-5 Application Edition to start designing inventive ARM Linux systems easier and faster," said Jason Kridner, open platforms principal architect, TI.
"ARM is committed to providing our Partners with the tools required to easily and rapidly develop optimized ARM processor-based products," said John Cornish, EVP and GM, System Design Division, ARM. "DS-5 represents a significant addition to our Keil tools portfolio and has been designed specifically for developers wishing to develop Linux applications for ARM processor-based systems."
DS-5 Application Edition is the first of three planned DS-5 editions. It supports Linux and Android native application development with a GNU compiler optimized for ARM Linux and an Ethernet or serial connection to the target. Future editions will include kernel and driver debug and trace, and the highly optimizing ARM Compiler.
See a DS-5 demo at Embedded World 2-4 March 2010
A Linux application debug demo using DS-5 and the Beagle Board will be showing at the Keil booth (Hall 10 booth 231).
Availability
The DS-5 Application Edition is available for download today from www.keil.com/ds5 as a free trial until 30 September 2010.
About Keil
Keil™, the tools division of ARM®, makes C/C++ compilers,debuggers, integrated environments, real-time kernels, simulation models, and boards for ARM, 8051, C166, and 251 processor families. The comprehensive range supports standard microcontrollers (MCU), smartcards, application specific standard parts (ASSP), and complex system-on-chip (SoC) devices. More information on Keil is available at http://www.keil.com/.
About ARM
ARM designs the technology that lies at the heart of advanced digital products, from wireless, networking and consumer entertainment solutions to imaging, automotive, security and storage devices. ARM's comprehensive product offering includes 32-bit RISC microprocessors, graphics processors, video engines, enabling software, cell libraries, embedded memories, high-speed connectivity products, peripherals and development tools. Combined with comprehensive design services, training, support and maintenance, and the company's broad Partner community, they provide a total system solution that offers a fast, reliable path to market for leading electronics companies. More information on ARM is available at http://www.arm.com.
---
ARM, µVision is a registered trademark of ARM Limited. Keil, and Cortex are trademarks of ARM Limited. All other brands or product names are the property of their respective holders. "ARM" is used to represent ARM Holdings plc; its operating company ARM Limited; and the regional subsidiaries ARM INC.; ARM KK; ARM Korea Ltd.; ARM Taiwan; ARM France SAS; ARM Consulting (Shanghai) Co. Ltd.; ARM Belgium N.V.; AXYS Design Automation Inc.; AXYS GmbH; ARM Embedded Solutions Pvt. Ltd.; and ARM Physical IP, Inc.; and ARM Norway AS.