This manual explains how to create projects that utilize STM32CubeMX together with Arm Keil MDK, which provides Device Family Packs (DFP) for the STM32 device series. The STM32 DFPs (version 2 or higher) include STM32Cube and a full set of CMSIS-Drivers that provide standardized peripheral interfaces.
Two components located in the class Device component bundle STM32CubeMX are provided:
Note

When selecting the component bundle 'Standalone' instead of 'STM32CubeMX' the STM32Cube HAL and LL peripheral interfaces become selectable as individual software components, but there is no component STM32Cube Framework:STM32CubeMX. This means there is no interaction nor integration available with the STM32CubeMX utility. As the CMSIS-Drivers for the STM32 peripherals rely on the peripheral and pin configuration by the STM32CubeMX and source code generated accordingly, CMSIS-Drivers and also MDK-Middleware components cannot be used when the 'Standalone' bundle is selected.
MDK Software Packs for STM32F0/F1/F2/F3/F4/F7, STM32G0/G4, STM32H7, and STM32L0/L1/L4/L5 extend the support for STM32Cube with:
The diagram below is an overview of the complete software stack that is available with Keil MDK: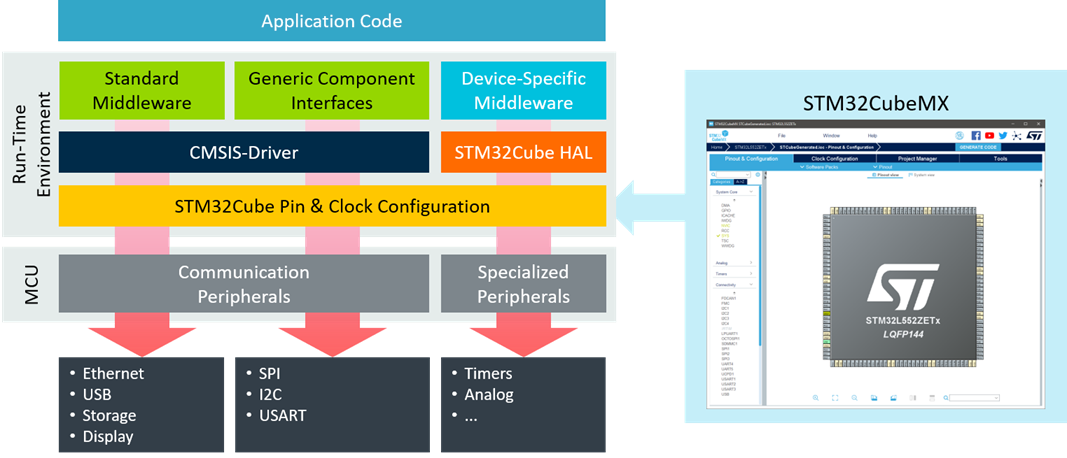 It is recommended to watch the video tutorials available from ST and Arm on STM32CubeMX:
This manual assumes that you are familiar with Arm Keil MDK. Refer to "Getting Started" for additional information.
Continue with: