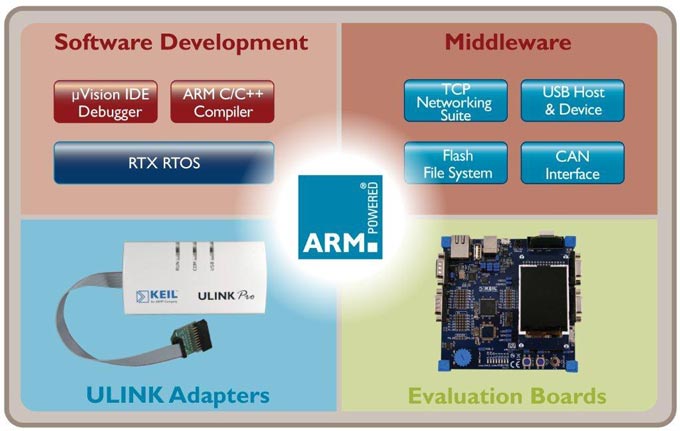 Click on image to see more information about specific products.
Keil development tools offer a complete development environment for ARM, Cortex-M, and Cortex-R4 processor-based MCU devices. They are easy to learn and use, yet powerful enough for the most demanding embedded applications.
Microcontroller Development Kit (MDK-ARM)
The MDK-ARM MDK is specifically designed for MCU applications and combines the ARM C/C++ Compilation Toolchain with the Keil RTX real-time operating system and middleware libraries. All tools are integrated into µVision which includes project management, editor, and debugger in a single easy-to-use environment.
ULINK Debug Adapters
The ULINK products enable Debugging, Real-Time Trace, and Flash programming via JTAG and Serial Wire Debug modes. The ULINKpro includes unique streaming trace technology which delivers Time Profiling and Code Coverage.
Evaluation Boards
Keil offer many Evaluation Boards and starter kits for today's most popular MCU devices based on ARM and Cortex processors.