Target Driver Settings
The Flash Download dialog controls how Flash memory is programmed in the target device. To open it click on the button Settings in the Utilities window explained in Flash Programming Configuration.
The Flash Download dialog described below is supported for Arm ULINK family, CMSIS-DAP and J-Link/J-Trace. Other 3rd-party debug adapters may also support it or have custom settings dialog for flash download.
The standard Flash Download dialog consists of the following configuration groups:

Download Function defines the operations that execute when Flash menu commands or Flash download operations are executed in µVision.
Erase Full Chip

Erase the entire Flash memory of the device.

Erase Sectors

Erase only the sectors used by the program to be downloaded.

Do Not Erase

Flash memory is not erased.

Program

Enable this option to execute Flash programming on Flash - Download operations.

Verify

Enable this option to verify that Flash memory content matches that program code.

Reset and Run

Start program execution after programming by executing a hardware reset.
---
RAM for Algorithm defines the memory area where programming algorithms are loaded and executed. This space is usually located in on-chip RAM.
Start

Physical start address of the memory area.

Size

Length of this memory area (in bytes).
---
Programming Algorithm lists algorithms and memory parameters required for programming Flash devices. Select a Flash memory region from the list to change parameters.

Start

Physical start address of the Flash device.

Size

Length of this memory area (in bytes).

Add

Open a dialog to add new programming algorithms to the list.

Remove

Remove a selected programming algorithm from the list.
---
The Add Flash Programming Algorithm dialog shows the available programming algorithms and the origin of the algorithm for the microcontroller device selected in the project. It displays the algorithms defined in the DFP as well as *.FLM files located in the ..\ARM\Flash\ directory in the MDK root folder.
The field at the bottom displays the file location of the selected programming algorithm.
Select a programming algorithm and click Add to insert the algorithm to the list.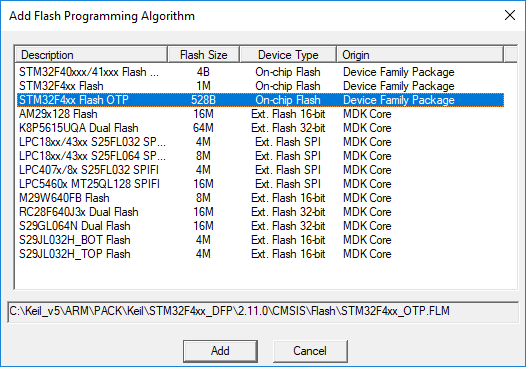 Note
While µVision supports most standard devices, it might be necessary to add flash programming for a new device or external flash memory. In this case refer to Flash Algorithms for information on how to create additional programming algorithms.