Start Energy Measurement without Debug
In debug mode, a connection to the target is required, which implies that the CoreSight™ debug logic consumes additional energy. For pure energy measurement (without CoreSight energy consumption), use the Energy Measurement without Debug mode .

Debug — Energy Measurement without Debug starts the energy measurement without a debug connection. In this mode, you can safely remove the debug cable.

Click the Run button or press F5 to start the energy measurement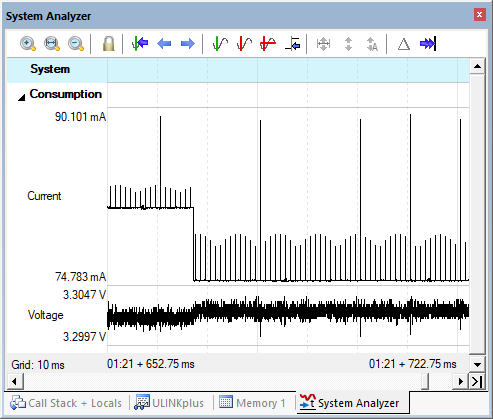 Click the Stop button to stop the energy measurement.
Available debug functionality
In this mode, there is no target debug functionality available. This means that all debug related windows are either empty or show no data (for example Registers, Disassembly, Call Stack + Locals, Memory, Watch, Event Recorder, and Component Viewer).
The following windows are active and accessible:
The Command window accepts VTREG commands for ULINKplus. It is possible to change the states of I/O pins, retrieve the current and voltage values, and to enable or disable power measurement. This also works using a debug script.
The ULINKplus window shows the values of all ULINKplus VTREGs and will accept changes for the I/O configuration, pin levels, and power measurement enable/disable.
The System Analyzer window displays the current and voltage measured.
Note
This option is only available if you have specified the ULINKplus debug adapter in the dialog Options for Target — Debug. Using any other debug adapter, will show the option greyed out: