Save System Analyzer Contents

Save the contents of the System Analyzer window using the save button in the toolbar or by right-clicking on any group or signal. The following dialog opens: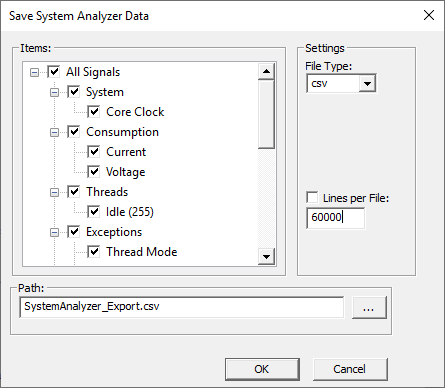 Using the Save button in the toolbar, you can select the signals that you want to save (see above). Using the context menu item, you can only save the current context.
In the Save dialog:
set the export file type: Comma Separated Value (CSV) or Tabulator Separated (TAB)
specify a file name and path. As default, the project path is used and the file name "SystemAnalyzer_Export.csv".
limit the number of lines per file when exporting the data, using Lines per file: (for example File1.csv, File2.csv, ...)
Click OK to save the data.
Note:
While saving, use the Cancel button to stop the export and close the file:


Data format of the exported file
The columns in the exported file carry the following format:
| Item | Unit | Description |
| --- | --- | --- |
| Time | Seconds | Shows the current program time |
| Core Clock | Hz | Measured core clock in Hertz |
| Current | A | Measured current in Ampere |
| Voltage | V | Measured voltage in Volts |
| Data Watch Group | N/A | Value of the given variable |
| Exceptions Group | Seconds | Duration of the exception in seconds |
| Event Recorder | Hexadecimal number | Event record number |
| RTX5 RTOS Group | Seconds | Duration of the thread event in seconds |
Example
Consider the following example:
The generated CSV file looks like this (this has been edited to show the important points):
| | | | | | | | | | | |
| --- | --- | --- | --- | --- | --- | --- | --- | --- | --- | --- |
| Time | Core Clock | Current | Voltage | value | Thread Mode | SVCall | SysTick | Event Recorder | app_main | thrLED |
| 0 | | | | 293 | | | | | | |
| … | | | | | | | | | | |
| 0.000176 | 1.68E+08 | | | | | | | | | |
| … | | | | | | | | | | |
| 0.524421 | | 0.045111 | 3.30327 | | | | | | | |
| 0.524434 | | 0.044798 | 3.30399 | | | | | | | |
| 0.524442 | | | | | | | 4.46E-06 | | | |
| 0.524447 | | | | | 1.74E-06 | | | | | |
| 0.524447 | | 0.044084 | 3.29967 | | | | | | | |
| 0.524447 | | | | 1 | | | | | | |
| 0.524449 | | | | | | 5.43E-06 | | | | |
| 0.524454 | | | | | 0.000988 | | | | | |
| 0.52446 | | 0.045216 | 3.30255 | | | | | | | |
| … | | | | | | | | | | |
| 0.524664 | | 0.052042 | 3.30159 | | | | | | | |
| 0.524671 | | | | | | | | 0xf219 | | 7.08E-06 |
| 0.524677 | | 0.046761 | 3.30279 | | | | | | | |
| 0.524678 | | | | | | | | 0xf219 | 0.005993 | |