Streaming Trace
To analyze the program behavior on target systems, code debugging can be used, but with increasingly complicated systems it is not always possible to use a stop-and-go mechanism to detect program glitches. There is a need to gather data in real-time while the device is running at full speed.
Cortex-M processor-based devices use CoreSight Macrocells for real-time tracing like the Embedded Trace Macrocell, Instrumentation Trace Macrocell, and Data Watchpoint and Trace Unit. Real-time trace data are pushed to the host's hard disk via the debugger adapter, from where µVision picks up the data to show them in µVision Windows.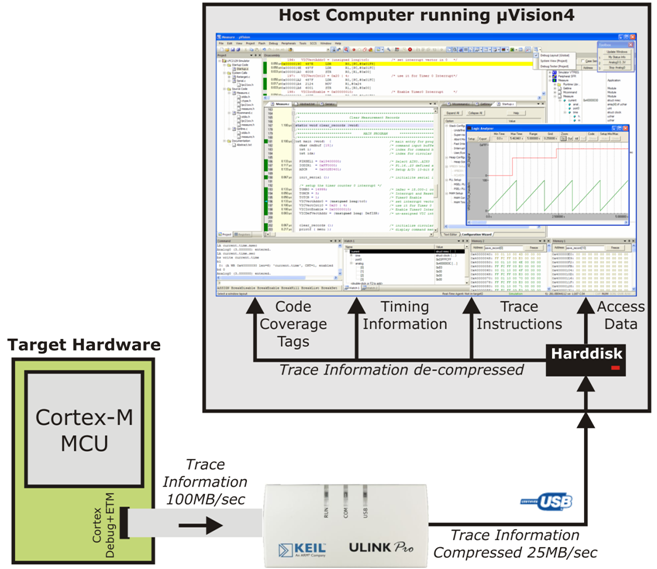 Streaming trace (real-time trace) when combined with ULINKpro, offers many advantages:
Trace data are delivered in real-time to the host computer.
The data amount is limited by the host computer only (hard disk).
Tracing is possible for minutes, hours, or longer.
Modern computers can handle traced data instantly.
The delivered trace data are:
Program counter values.
Data reads and writes.
Event counters.
Exception entry and returns.
Timestamps and CPU cycles used.
Executed instructions.
Streaming data are output on a 4-bit dedicated trace bus and are captured by special debugger adapters, such as ULINKpro.
Note
Not all Cortex-M processor-based devices have an Embedded Trace Macrocell.
Related Knowledgebase Articles