Firmware Update
The first time you connect to ULINKplus (for Flash downloading, debugging or setting up the debugger), you may receive the following message explaining that ULINKplus firmware should be updated. Your ULINKplus may be installed with either V1.x.x or V2.x.x firmware. The dialog that displays is slightly different for V1.x.x and V2.x.x:
V1.x.x Firmware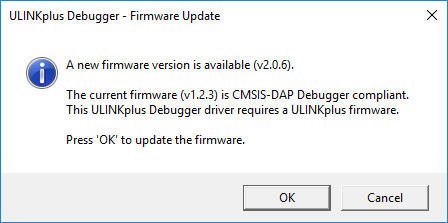 Click OK to update from V1.x.x firmware to V2.x.x firmware and complete the connection to ULINKplus.
If you do not allow the update, the ULINKplus Flash download or debug session terminates. To use the V1.x.x version of the firmware, in Options for Target - Debug, you must change the debug target driver to CMSIS-DAP Debugger. The download or debug session will then run, but without the full features of ULINKplus.
V2.x.x Firmware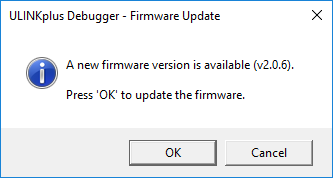 Click OK to update your V2.x.x firmware and complete the connection to ULINKplus.
Manual Update
The ULINKplus adapter may also be manually re-programmed for use with other CMSIS-DAP V1.1 compliant debuggers such as DS-5.
Downloading Firmware to ULINKplus
When you install the MDK tools, the ULINKplus_FW_Downloader.exe program is automatically installed on your local drive along with the latest ULINKplus firmware (.BIN) download files.
To manually download firmware to your ULINKplus adapter:
Connect your ULINKplus to the USB connector on your PC.
Browse to the [installation_path]\ARM\ULINK\Utilities\ where the default [installation_path] is C:\Keil_V5\.
Double-click the ULINKplus_FW_Downloader.exe file to load the program.
Select the ULINKplus SN Lxxxxxxxxx from the Device drop down list. The ULINKplus Serial Number, Boot version and Firmware version currently installed in the ULINKplus adapter display.

Click the browse button to the right of the Image: text box and select either:

ULINKplusFW_V1_x_x.bin

For use with the DS-5 debugger (CMSIS-DAP V1 compliant)

ULINKplusFW_V2_x_x.bin

For use with the full-featured, µVision debugger

Click Open, then click the Download button to start the download. When finished, Download succeeded! displays below the progress bar.