Install USB Driver
Windows 8 and 10
ULINKplus uses a specific Keil USB driver, which is included with the MDK product download. If you have MDK installed, Windows 8/10 will find and use the required drivers automatically. Please wait, until the installation process has ended. When finished, multiple devices named "ULINKplus" are available in device manager: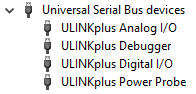 Windows 7
For Windows 7, when you first connect ULINKplus, Windows 7 detects the new hardware and displays the following dialog: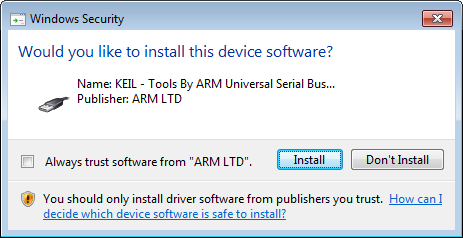 Click the Install button to install the ULINKplus device support on your computer.
When the installation is complete, the following dialog displays: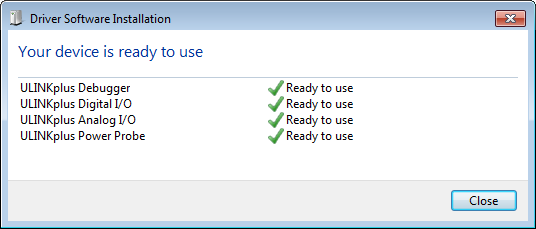 If installation issues arise, perform these steps:
Open the Windows Device Manager (you may use devmgmt.msc in the command prompt).
Expand Universal Serial Bus devices. Four ULINKplus devices should display.

Right click any ULINKplus device name and select Update Driver Software...
Note
Administrator rights are needed to install the driver software.
Subsequent connections to ULINKplus do not require new driver installations.
Related Knowledgebase Articles