Connect to Target
To connect ULINKplus with the target hardware and PC:
Using the 10-pin cable connect the ULINKplus JTAG/SWD interface to the corresponding connector on the target. If necessary, use the ULINK SWD adapter.
Plug the USB cable into the PC and into the ULINKplus's USB connector.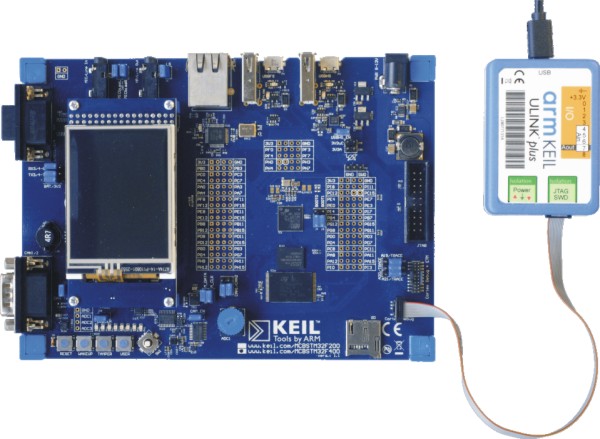 Note
The red stripe on the cable marks pin 1.
Start Sequence
ULINKplus performs a start sequence prior to start debugging on target systems. The start sequence depends on the device type and the settings in µVision.
For Cortex devices, ULINKplus:
Initializes the JTAG or Serial Wire interface, detects the Chip ID and acquires control of the CPU debug logic. The HW RESET signal may be activated and depends on the Connect option selected in Options for Target — Debug — Settings.
Stops the device.
Performs a reset as defined in Options for Target — Debug — Settings, if Reset after Connect is enabled.
Performs a Reset Sequence and downloads the code to the target if Options for Target — Debug — Load Application at Startup is enabled.
Executes debug commands defined in the file specified in Options for Target — Debug — Initialization File.
Reset Sequence
ULINKplus' reset sequence is device-specific. To reset the device, ULINKplus asserts the JTAG/SWD RESET signal (pin 10 [nRESET] on JTAG/SWD connector) to stop the device.
Hot Plug Connections to a Target
Because the JTAG/SWD and I/O pins are 1kV isolated, you may connect and disconnect (hot plug) your ULINKplus to an un-powered, powered or running target board without affecting the board's operation. With this powerful feature, if you observe an intermittent or unexpected problem, you can connect ULINKplus to the target board and start a debug session to examine and isolate problems while the problem is happening.
To take advantage of the hot plug feature, your debug session must load the application program without disturbing the target or preventing the debugger from resetting the target when it starts. To accomplish this, create a "hot plug debug" copy of your debug target by making the following changes:
This "hot plug debug" target is now ready to use whenever a problem occurs.
For more detail regarding these steps see Connecting to a Running Target.