Trace Records Window
The Trace Record window shows all the Trace records captured (including the overflows and timestamps). The Exception Trace, Logic Analyzer and ITM Viewer displays use data from this window and visually present them in a different way.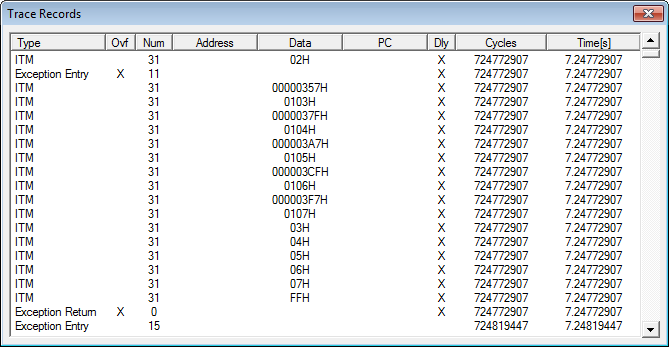 Trace records are stored in a compressed circular buffer which can hold up to 1 million records which equates to approximately 20 seconds of recording time. When the Running... message displays in the Trace Status bar, all records are captured until the capture buffer fills. Once full, the oldest records are replaced by newest ones.
Note
Double-clicking anywhere in the Trace Records window clears the trace record buffer.
Trace Record Types
Record Data
Description
Type

Data Read - 8/16/32 bit Data Read.
Data Write - 8/16/32 bit Data Write.
ITM - 8/16/32-bit data written by software through ITM port.
Exception Entry/Exit/Return - Exception events.
Counter Event - Overflow of an 8-bit counter (CPI, EXC, Sleep, LSU or Fold).
PC Sample - Periodic sample of the program counter.

Ovf
Overflow flag indicates that data in the previous trace record was lost because the Cortex-M hardware could not send the requested event information fast enough.
Num
Number of ITM Port or Exception Number.
Address
Address of Data Read/Write access.
Data
8/16/32-bit data for Data Read/Write and ITM, or 8-bit data for overflow Counter Events (Bit0-CPI, Bit1-EXC, Bit2-Sleep, Bit3-LSU, Bit4-Fold).
PC
32-bit Program Counter value for periodic PC Sample or Data Read/Write access.
Dly
Delayed Timestamp flag which indicates that the displayed Cycles/Time values are later than the actual event.
Cycles
Timestamp in Core Cycles.
Time[s]
Timestamp in seconds.
Filtering Trace Records
Right-click anywhere in the Trace Records window to display the Trace Records Filter Context Menu.
Use this menu to change the display to view different combinations of record types. Unchecking a record type does not remove that record from the record buffer.
Handling Data Overflows (OVF)
When events happen so close together that Trace data cannot be captured, an overflow occurs for that event and sets the OVF flag in the next trace record. When this happens, try:
Reducing the number of simultaneous events being captured.
Splitting your Trace analysis into multiple sessions.
Examining the variables you are tracing with the Logic Analyzer. When tracing variables with the Logic Analyzer, try to select variables that are written and never read (even if you have to define a "debug variable" for this) to prevent an additional Read event.