Chaining Multiple Targets
Chaining multiple targets, or target chaining, refers to the ability to attach multiple target systems to one single JTAG bus. In this configuration, ULINK2 can access one target at a time.
In order to chain targets, the devices must support the following:
BYPASS register.
The IDCODE instruction must immediately follow a reset of the Test Access Port (TAP).
Bit 0 of ID Code must be 1.
In CAPTURE-IR state, the fixed value 1 must be loaded into the IR.
Setting Up Multiple Targets
ULINK2 scans for an IDCODE, a device name, and an IR length for each target, and sets up targets automatically. The results of this scan are displayed in the JTAG Device Chain section of the ARM Target Driver Setup dialog (Project — Options for Target — Debug — Settings).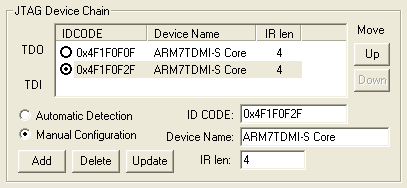 If the automatic setup fails, you may use Manual Configuration to setup the attributes of each device. To use Manual Configuration, the target device must have BYPASS register support. See JTAG Device Chain for more information about Manual Configuration.
Connecting Targets
To connect multiple targets:
Connect the control signals (TMS and TCLK) connect in parallel.
Connect the data signals (TDI and TDO) in series.
The data output from one target (TDO) should be the input to the next target (TDI) in the chain.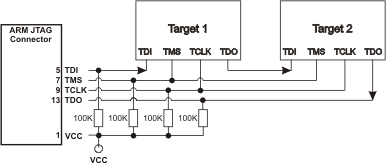 Note
Target chaining is possible in JTAG mode only.
Related Knowledgebase Articles