CoreSight Technology
CoreSight™ is an on-chip debugging and tracing technology designed by ARM. The device manufacturer can implement CoreSight features in various combinations.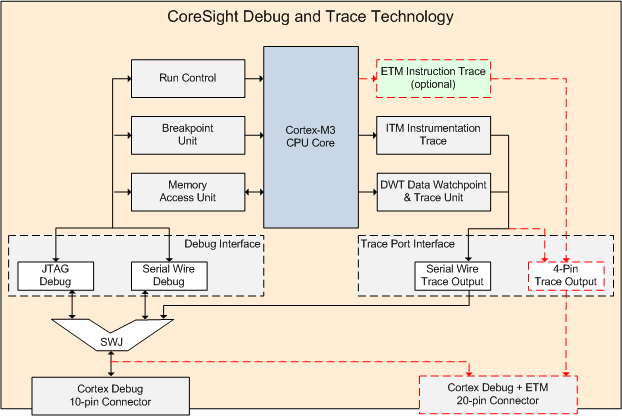 (Though the red-dotted elements can be part of CoreSight, they are not supported by ULINK2.)
CoreSight features can be accessed through a JTAG or Serial Wire interface. Debugging in JTAG and Serial Wire mode at the same time is not possible. Cortex-M processor-based devices can include a:
Debug Interface
The debug interface offers two modes:
JTAG Debug is the industry-standard interface that allows device chaining.
Serial Wire Debug is a 2-pin interface with an optional Serial Wire Trace Output. In contrast to JTAG, devices cannot be chained.
The Debug Interface communicates with the following units:
Run Control: allows the user to start, stop, and single-step through the source code.
Breakpoint Unit: allows the user to set breakpoints even while the processor is running.
Memory Access Unit: allows the user to read or write to memory and peripheral registers even while the program is running.
Trace Port Interface
The Trace Port Interface encodes and provides trace information via two possible interfaces:
The Serial Wire Trace Output pin (SWO) can be used in Serial Wire Debug mode only.
The 4-Pin Trace Output has a greater bandwidth than Serial Wire Trace Output and uses 5 functional pins. It is the only way to output ETM trace data. However, the ULINKpro USB-JTAG/SW debugger adapter is required to use this feature.
The Trace Port Interface communicates with the following units:
Embedded Trace Macrocell (ETM): can be used for instruction tracing to debug historical sequences, for software profiling, and code coverage analysis. ETM data are output through an extra 4-bit interface (ULINKpro required).
Instrumentation Trace Macrocell (ITM): provides application information like debug printf(), RTOS information, unit test, or UML annotation.
Data Watchpoint & Trace Unit (DWT): provides PC sampling, event counters, timing, and interrupt execution information. In addition, it allows Access Breakpoints for up to four memory addresses.
Serial Wire-JTAG Switch (SWJ)
This switch is used to synchronize the debugger adapter and the CoreSight debug interface. ULINK2 uses this option to generate sequences for switching between Serial Wire Debug and JTAG Debug mode.
Note
Check the manufacturer's device data sheet to read which CoreSight features have been implemented.