PLL_DEMO
The PLL_Demo example project flashes an LED connected to PORT 2.8 ... P2.15. The project shows how to configure the on-chip Phase Locked Loop (PLL) to set various CPU clocks.
The EASYWEB example project demonstrates assembling, compiling, linking, downloading, and debugging using the µVision IDE on the MCBXC167 board.
The PLL_DEMO program targets the On-Chip Flash on the XC16x Board. The PLL_DEMO example works for OCDS debugging with Keil ULINK or the LPT JTAG interface on the XC16x Board
Use the On-Chip Flash target for this example.
Loading PLL_DEMO
To load the PLL_DEMOproject, select Open Project from the Project menu and open PLL_DEMO.UV2 from the following folder:
…\C166\BOARDS\KEIL MCB-XC167\PLL_DEMO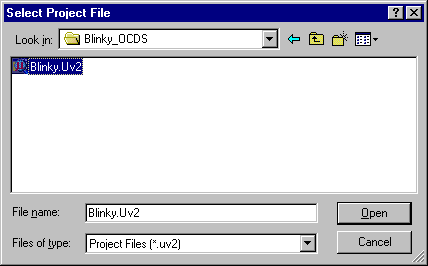 When the PLL_DEMO project opens, the µVision Project Workspace window displays the source files that make up the project.
PLLstep.c: the application module that prints the text output, and displays the webpage.
main.c: CPU startup file for the Infineon XC167 devices.
start_v2.a66: CPU startup file for the Infineon XC167 devices.
The ABSTRACT.TXT file contains documentation about the project.
Editing PLL_DEMO
You may edit PLLstep.c or review the source code. Double click on PLLstep.c in the Files page of the Project Window. µVision loads and displays the contents in an editor window.
Running PLL_DEMO
Perform the following five steps to run the PLL_DEMO Example on the MCBXC167 Evaluation Board: