BLINKY
The BLINKY example program toggles the LEDs on the board and prints "AD Light" and "AD Temp" values to the serial port and the GLCD. The "AD Light" value depends on the light irradiation.
The BLINKY example project demonstrates assembling, compiling, linking, downloading, and debugging with the µVision IDE on the MCBTMS570 board. The on-board LEDs make it easy to visually verify that the program loads and executes properly. The HyperTerm terminal emulator program makes it easy to verify serial output.
Loading BLINKY
Open the project Blinky.uvproj located in the folder \KEIL\ARM\BOARDS\KEIL\MCBTMS570\BLINKY with the µVision menu Project - Open Project.

The µVision window Project displays the source files that make up the project.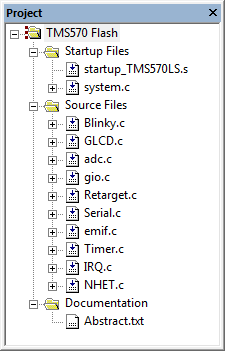 startup_TMS570LS.s contains the CPU startup code for the Texas Instruments TMS570LS20xx devices.
system.c contains initialization functions, type definitions, and startup routines.
Blinky.c contains the main application code.
GLCD.c, contains the functions to produce text and graphics for the LCD display.
adc.c contains the initialization routines, API functions, and interrupt handlers relevant for the ADC.
gio.c contains the functions to communicate to the serial port.
Retarget.c contains the low-level functions to redirect program input and output.
Serial.c contains low-level serial functions.
emif.c contains the configuration code for the MPU regions of the Cortex-R4 processor-based device.
Timer.c contains the RTI timer initialization code.
IRQ.c contains the interrupt handler to blink the LEDs.
NHET.c contains the initialization code for the LED pins.
Abstract.txt contains documentation about the project.
Editing BLINKY
Edit Blinky.c or review the source code. Double click on Blinky.c in the window Project to open the file in an editor window.
Running BLINKY
Perform the following steps to run the BLINKY example on the board: