USBHID - Human Interface Device
The Human Interface Device (HID) program allows the MCB2140 to act as a Windows HID while attached to your PC using a USB interface. With this program and the HIDClient.exe program, you can:
Control the LEDs on the MCB2140 board, and
Respond to presses of the INT1 button
all from a dialog box in a standard Windows program.
Loading USBHID
To load the USBHID project, select Open Project from the Project menu, and open the HID.UV2 project from the root\BOARDS\KEIL\MCB2140\USBHID folder.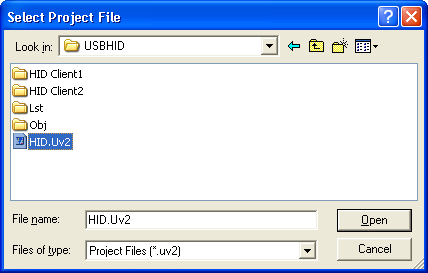 When the HID project opens, the µVision Project Workspace window displays the source files that make up the project.
Startup.s: CPU startup file for the NXP LPC214x devices.
usbcfg.h: USB custom configuration file for several USB features.
usbhw.c: USB hardware layer for NXP LPC2148.
usbcore.c: USB core module that implements the basic USB communication layer.
usbuser.c: USB common module.
usbdesc.c: USB device description.
hiduser.c: HID custom module.
demo.c: contains the main program and the HID report functions.
The Abstract.txt file contains documentation about the project.
Editing USBHID
You may edit or review the source code. Double click on the source code file in the Files page of the Project Workspace window. µVision loads and displays the contents in an editor window.
Running USBHID
Perform the following four steps to run the USBHID Example on the MCB2140 Evaluation Board: