Debugging USBHID (ULINK only)
Debug the USBHID example program following this procedure. Debugging the USB application is straightforward.
Use the Start/Stop Debug Session toolbar button or the µVision command Debug - Start/Stop Debug Session to connect the debugger to the Keil ULINK Adapter. The CPU stops and connects to the Embedded ICE of the LPC2148 device. For details on the debugging features, refer to the µVision User's Guide.
Next, click the Debug - Run toolbar button to start the USB application.
While the program runs, disconnect and then re-connect the USB connector of the MCB2140 so your computer detects the USB device.
Note
The re-powering of the MCB2140 board effectively disables all breakpoints since powering-on the board resets the Embedded ICE.
Click the Debug - Halt button to set a breakpoint as shown on line 57 in the figure below.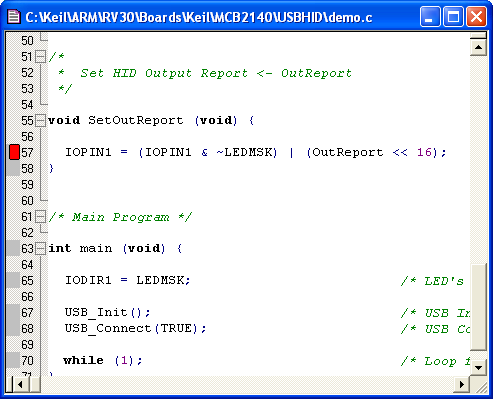 With the breakpoint set, when you change the Output status using the HIDClient.EXE application, the program stops at this breakpoint, allowing you to debug the USBHID program.