Instruction Trace
This section defines the interval at which instrumentation trace data are generated.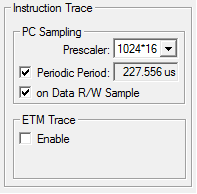 PC Sampling controls the sample generation.
Prescaler sets the interval value, with respect to the Core Clock, used to generate periodic PC Sampling.
Periodic enables sampling at regular intervals based on the Prescaler.
Period shows the actual period used for PC sampling. The value is calculated through the Prescaler.
on Data R/W Sample enables PC sampling for memory reads and writes.
ETM Trace enables instruction tracing through the Embedded Trace Macrocell module. This option can be used together with the Sync Trace Port with n-bit Data configuration only.