JTAG/SW Device
This section of the dialog displays information about the connected target device. Depending on the selected Port, this section shows the credentials of the SW Device or the JTAG Device Chain.
SW Device shows one or more debug targets connected through the Serial Wire interface. The IDCODE and Device Name are displayed automatically for each device.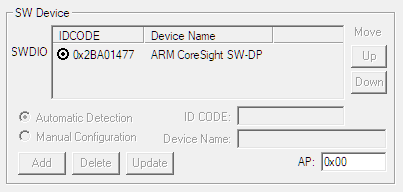 JTAG Device Chain shows one or more debug targets connected through the JTAG interface. The IDCODE, Device Name, and IR Length are displayed automatically for each device. Manual Configuration allows identifying undetected JTAG devices. Specify the instruction register length (IR len) of each device in the JTAG device chain.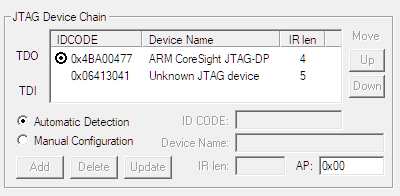 AP field specifies the identifier of the Access Port in multi-core devices with a single Debug Port (DP). The Access Port specification depends on the Arm Debug Interface (ADI) supported in the device.
For APv1 (ADIv5):

The AP value range is 0 to 255.
For single core devices, set AP to 0 (default).
For a multi-core device, core 0 is expected to have AP=0 and core 1 AP=1. However, the port identifiers are specified by the device manufacturer.

For APv2 (ADIv6):

Only SWD connection to ADIv6 target systems is currently supported.
The AP value range is 0x00000000 to 0xFFFFFFFF. The value needs to be set by a user for a target sub-system based on the information provided by the device vendor in documentation.
If AP value is set to 0xFFFFFFFF then µVision debugger will automatically connect to the AP of the first auto-detected CPU.
Debugger automatically requests power using Granular Power Requester (GPR) from Class 0x9 ROM Tables.
Only top-level APs are supported, not "nested APs" (AP exposing its registers via target memory accesses of a higher-level AP).
If AP contains an invalid identifier, the error message Invalid ROM Table is shown whenever a debugging session is started.