The linker does not know the address of a section until it is assigned to a region. Therefore, when filling .ANY regions, the linker cannot calculate the contingency space and cannot determine if calling functions require veneers. The linker provides a contingency algorithm that gives a worst-case estimate for padding and an additional two percent for veneers. To enable this algorithm use the --any_contingency command-line option.
The following diagram represents the notional image layout during .ANY placement:
Figure 7-4 .ANY contingency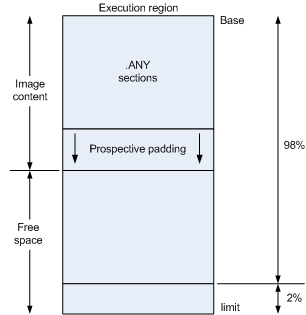 The downward arrows for prospective padding show that the prospective padding continues to grow as more sections are added to the .ANY selector.
Prospective padding is dealt with before the two percent veneer contingency.
When the prospective padding is cleared the priority is set to zero. When the two percent is cleared the priority is decremented again.
You can also use the ANY_SIZE keyword on an execution region to specify the maximum amount of space in the region to set aside for .ANY section assignments.
You can use the
armlink
command-line option
--info=any
to get extra information on where the linker has placed sections. This can be useful when trying to debug problems.
Example
Create the following

foo.c

program:

#include "stdio.h"

int array[10] __attribute__ ((section ("ARRAY")));

struct S {
    char A[8];
    char B[4];
};
struct S s;

struct S* get()
{
    return &s;
}

int sqr(int n1);


int gSquared __attribute__((at(0x5000)));  // Place at 0x00005000



int sqr(int n1)
{
    return n1*n1;
}

int main(void) {
    int i;
    for (i=0; i<10; i++) {
        array[i]=i*i;
        printf("%d\n", array[i]);
    }
    gSquared=sqr(i);
    printf("%d squared is: %d\n", i, gSquared);

    return sizeof(array);
}


Create the following

scatter.scat

file:

LOAD_REGION 0x0 0x3000
{
   ER_1 0x0 

0x500


   {
      .ANY
   }
   ER_2 (ImageLimit(ER_1)) 

0x400


   {
      .ANY
   }
   ER_3 (ImageLimit(ER_2)) 0x500
   {
      .ANY
   }
   ER_4 (ImageLimit(ER_3)) 0x1000
   {
       *(+RW,+ZI)
   }
   ARM_LIB_STACK 0x800000 EMPTY -0x10000
   {
   }
   ARM_LIB_HEAP  +0 EMPTY 0x10000
   {
   }
}


Compile and link the program as follows:

armcc -c --cpu=cortex-m4 -o foo.o foo.c
armlink --cpu=cortex-m4 --any_contingency --scatter=scatter.scat --info=any -o foo.axf foo.o
The following shows an example of the information generated:

==============================================================================


Sorting unassigned sections by descending size for .ANY placement.
Using Worst Fit .ANY placement algorithm.
.ANY contingency enabled.

Exec Region    Event                         Idx          Size        Section Name                  Object
ER_1           Assignment: Worst fit         158          0x000001d6  .text                         c_w.l(flsbuf.o)
ER_3           Assignment: Worst fit         83           0x00000138  .text                         c_w.l(initio.o)
ER_2           Assignment: Worst fit         289          0x000000f8  .text                         c_w.l(fseek.o)
ER_3           Assignment: Worst fit         291          0x000000f0  .text                         c_w.l(stdio.o)
...
ER_2           Assignment: Worst fit         3            0x0000005c  .text                         foo.o
...

.ANY contingency summary
Exec Region    Contingency     Type
ER_1           53              Auto
ER_2           48              Auto
ER_3           59              Auto

==============================================================================


Sorting unassigned sections by descending size for .ANY placement.
Using Worst Fit .ANY placement algorithm.
.ANY contingency enabled.

Exec Region    Event                         Idx          Size        Section Name                  Object
ER_1           Info: .ANY limit reached      -            -           -                             -
ER_3           Info: .ANY limit reached      -            -           -                             -
ER_2           Info: .ANY limit reached      -            -           -                             -
ER_3           Assignment: Worst fit         405          0x00000034  !!!scatter                    c_w.l(__scatter.o)
ER_3           Assignment: Worst fit         407          0x0000001c  !!handler_zi                  c_w.l(__scatter_zi.o)