An SNMP Agent enables network management features. More...
An SNMP Agent enables network management features.
Simple Network Management Protocol (SNMP) is mainly used in network management systems to monitor network-attached devices for conditions that warrant administrative attention. It is the most popular network management protocol in the TCP/IP protocol suite.
Note

The Network Component's SNMP Agent supports IPv4 connections only.
SNMP is a simple request/response protocol that communicates management information between two types of SNMP software entities: SNMP managers and SNMP agents. The following picture shows an exemplary setup: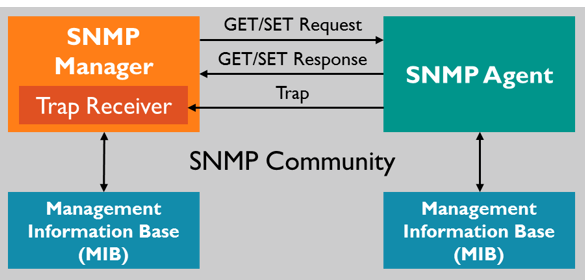 In summary, SNMP performs the following operations:
The GET operation receives a specific value about a managed object, such as the available hard disk space from the agent's MIB.
The GET-NEXT operation returns the "next" value by traversing the MIB tree of managed object variables.
The SET operation changes the value of a managed object's variable. Only variables whose object definition allows read/write access can be changed.
The Trap operation sends a message to the Management Station when a change occurs in a managed object, and that change is important enough to send an alert message.
The SNMP Agent validates each request from a SNMP manager before responding to the request, by verifying that the manager belongs to a SNMP community with access privileges to the agent. A SNMP community is a logical relationship between a SNMP agent and one or more SNMP managers. The community has a name, and all members of a community have the same access privileges: either read-only or read-write.
The SNMP Agent in the Network Component is an optimized and compact implementation for embedded systems. Currently it implements SNMP version 1.
This documentation is separated as follows: